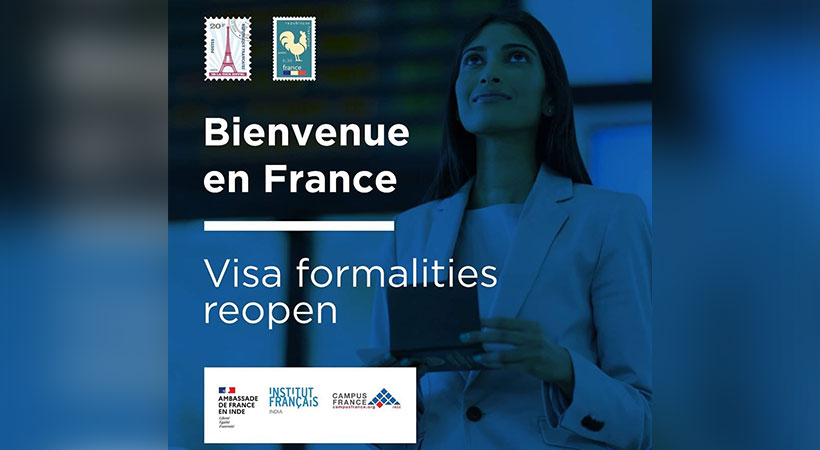 Campus France India ANNOUNCEMENT:Visa formalities reopen
August 20, 2020 7:21 am
FINALLY, the news all students have been waiting for: Visa formalities reopen! France opens its borders and consular services to Indian students and academics.
Students going to France this fall can now apply for their visa applications in 7 VFS centres: Mumbai, Delhi, Kolkata, Chennai, Bengaluru, Hyderabad, and Kochi.
Safety is priority and thereforedossiers will be processed in small batches every week to ensure adequate safety measures.
Click here to know more about the visa procedure and conditions to enter French territory:
If you have any questions about the procedure, do contact your local Campus France Manager.
France offers the best value for money and a great diversity of programmes. Just before COVID-19, France reached a record number of 10,000 students travelling from India to France for higher studies.
France has a network of 3,900 public and private educational institutions and offers 1,600 programmes in English. During the COVID-19 lockdown, France took care of its foreign students and ensured their safety and well-being through its social and public healthcare system. Scholarships to Indian students were extended to ensure their stay remained comfortable.
To know more about studies in France: http://ifindia.in/study-in-france-guide/
To attend pre-departure sessions from 22-31 august, register at http://ifindia.in/bienvenue-en-france/
Source: Campus France India official FB page
#visa #visaservices #vfs #bienvenueenfrance #predeparturesession #StudyinFrance #chooseFrance #visareopens #visaprocedures #visaprocess #francevisa