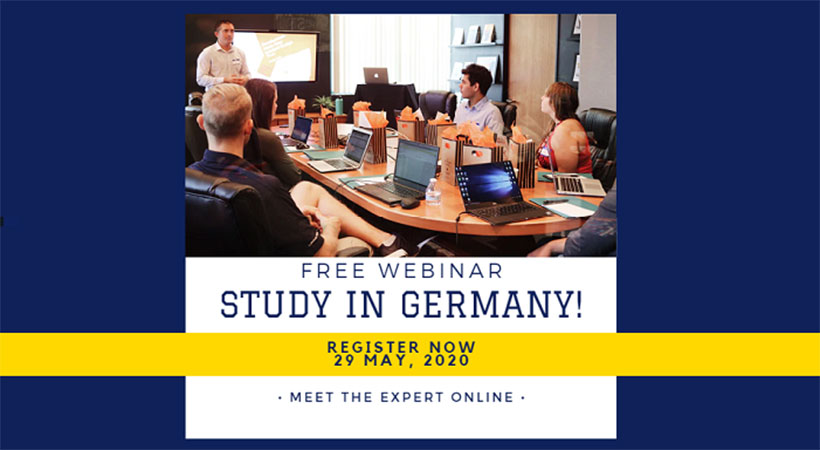 Tuition fee-free study in Germany: FREE webinar registration ends May 26th
May 24, 2020 8:07 am
A free ONLINE Q&A session over the possibilities of studying medicine, nursing, engineering, business, management and science at government universities in Germany without tuition fees will take place at 2 pm Indian time on May 29. Students also will be informed on various scholarship opportunities and bachelor degree holders with merits have possibilities of studying master level programs in English as well.
The webinar, which is led by experts on learning and work-settlement possibilities in Germany, is absolutely free for students who are intending to study abroad. Those who have passed Class XII with 60% marks and students who are expecting exam results and graduates also will be eligible to attend the web meet.
In most universities, from the second year onwards, tuition fees are free, except for the fees for a first-year preparatory course in Germany and the cost of health insurance, travel and accommodation. At the same time students will also have the opportunity to work part-time with a study in Germany and also a post study work upon completion of the course.
Those interested in attending the webinar must register their names by May 26. You can register your names by clicking on the link below:
Use the following link to attend the zoom meeting: https://us02web.zoom.us/j/4834245791?pwd=K3ZFN2htNTV4ZUloUTM2WFN4blovQT09
Meeting ID: 483 424 5791
Password: freestudy
For more information and signing up, you can also call/mail us:
Ph: +91 85 89 00 66 55 WhatsApp: +4368864122224 / +91 95440 06611
Email: info@danubecareers.com