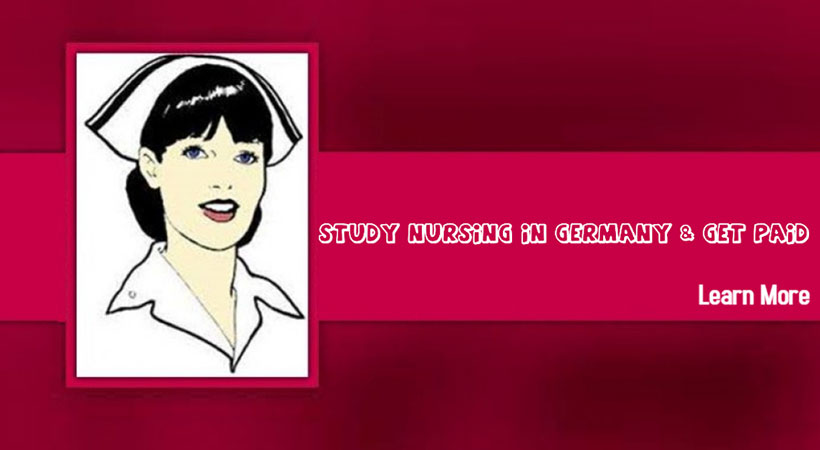 Study nursing in Germany and get paid
June 14, 2021 5:19 pm
Germany, one of the most remarkable and finest countries in the world calls international students to work and study nursing in Germany with amazing benefits. The country lists thousands of job openings for nurses. The faster you learn German language, the quicker is your chance to find jobs in Germany. At the same time, it is interesting to know that hundreds of nurses have already arrived in Germany.
In Germany, nursing education is generally not conducted as a bachelor's degree program that are commonly taught in universities, although there are places, they offer bachelor's degree in nursing.
Students who wish to study nursing in Germany need to undergo on-the-job apprenticeship (known as "Ausbildung") program in German hospitals or other health settings along with their studies. It is usually a paid program in Germany.
Advantages for an Aspirant:
Can get a student visa along with Work right.
Blocked account amount deposit of 10332 Euros not required.
Can get the full-time job with all the benefits after course.
Settlement / family reunification options are available.
Start getting salary soon after 12th grade in the form of stipend (approximately 35 lakhs for 3 years)
Possibilities of higher education after becoming a nurse while on the job.
Eligibility:
It is advisable to get B2 certification in German before travelling to Germany.
Percentage of marks: Above 75% + in Plus 2/higher secondary (in science)
Both Boys & Girls (more preference) can apply
Duration:
Students need to undergo both theoretical and practical training for a period of 3 Years.
This full time Nursing Training program contains:
2100 Hours of classroom teaching at a nursing school/college.
2500 Hours of work / practical experience in hospitals or care homes.
Career Areas:
Qualified registered nurses in Germany are eligible to work in hospitals, nursing homes, geriatric homes, OP care facilities, Clinics, public and private health settings, health insurance companies etc.
How to apply:
Danube has already started taking applications for July batch in this direction.
More information is available free of charge from the Kochi office of Danube Careers.
Schedule a call OR Request for info:
Email: info@danubecareers.com
Phone/WhatsApp: 9895382009
www.danubecareers.com